Attracting top talent just got easier
Be where the next generation of talent are. Build long-term relationships and find your dream candidates more accurately and cost-effectively.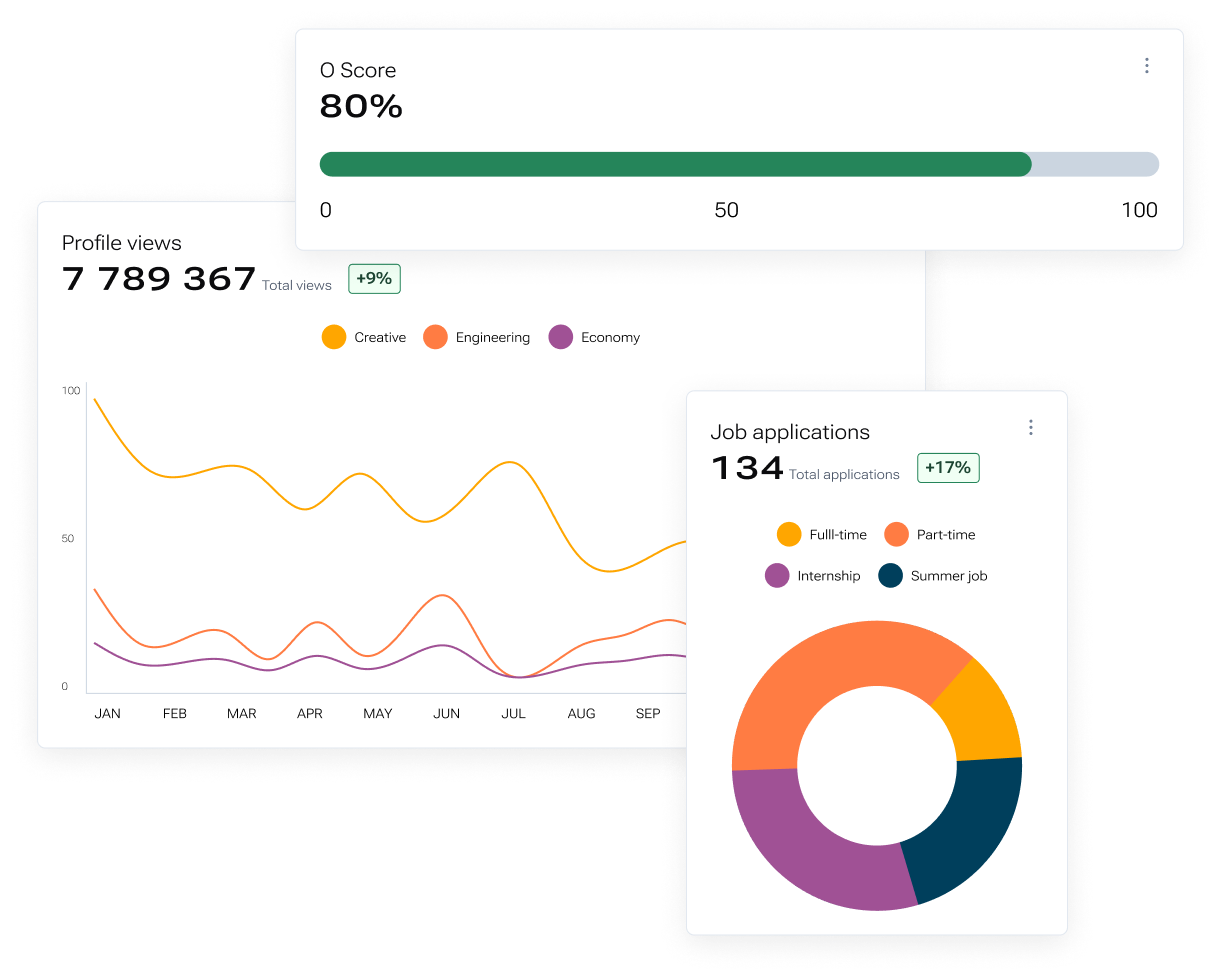 Trusted by companies and schools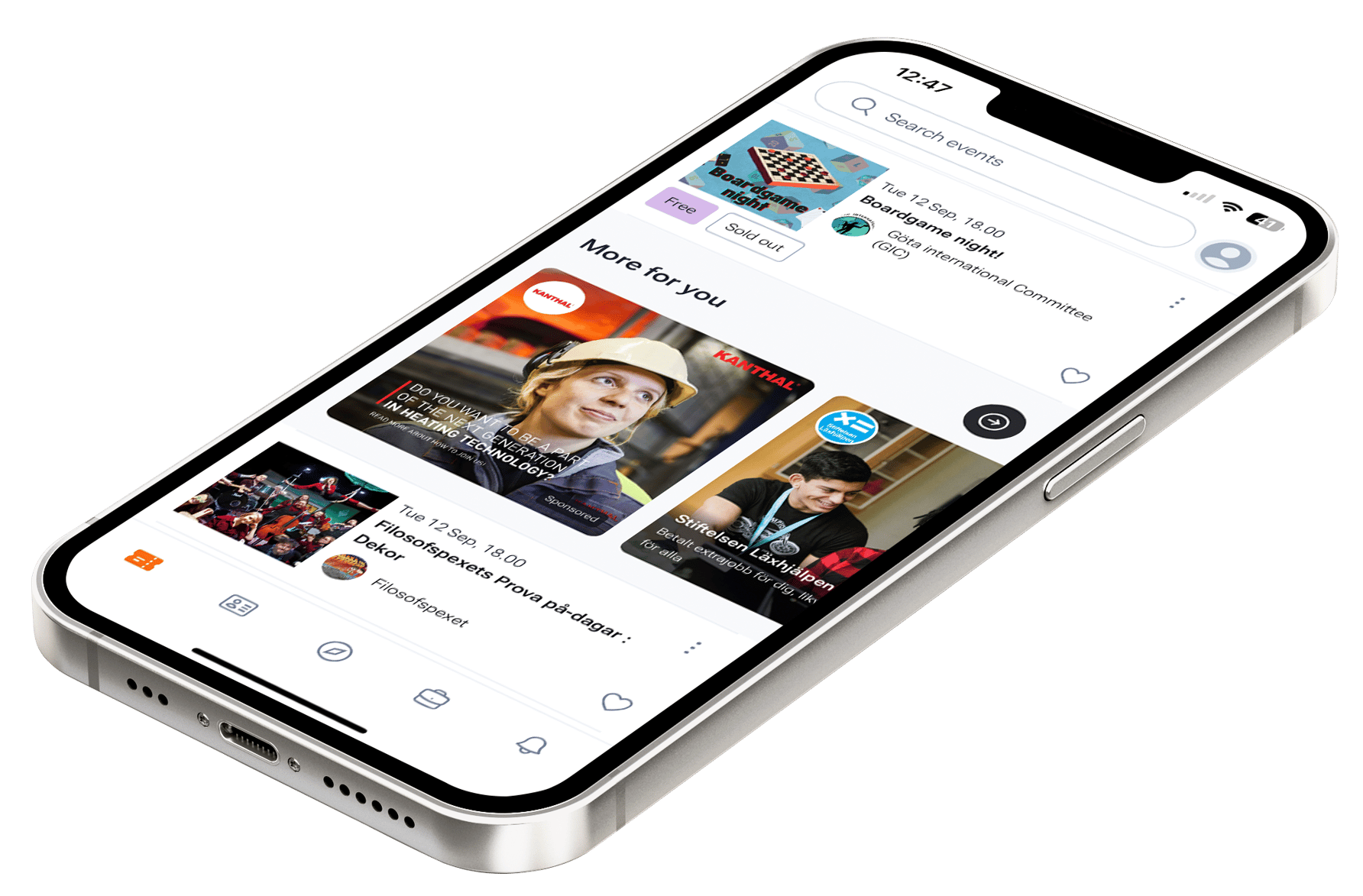 Use an ad space that is impossible to miss
With over 400,000 impressions/week you have Orbi Booster, the superior way to reach out your message to students all over the Nordics.

Every single impression along with CTR is tracked; learn which university and which programme every single impression originates from. Publish regarding employer branding or about a product that is interesting for students.
Reach relevant talents with multiple target groups
Tailor your ads to different target groups, to ensure you find the candidates you need.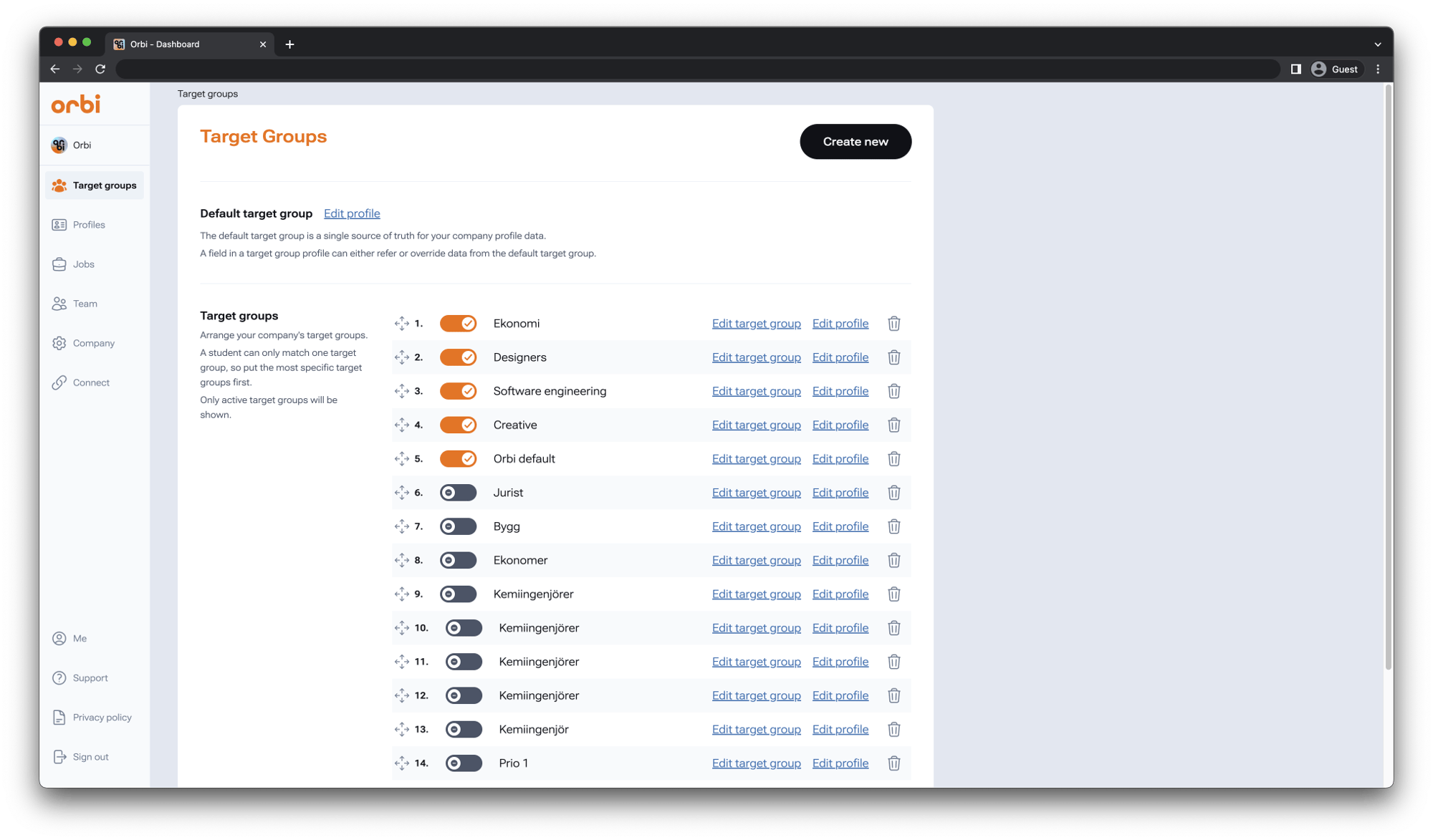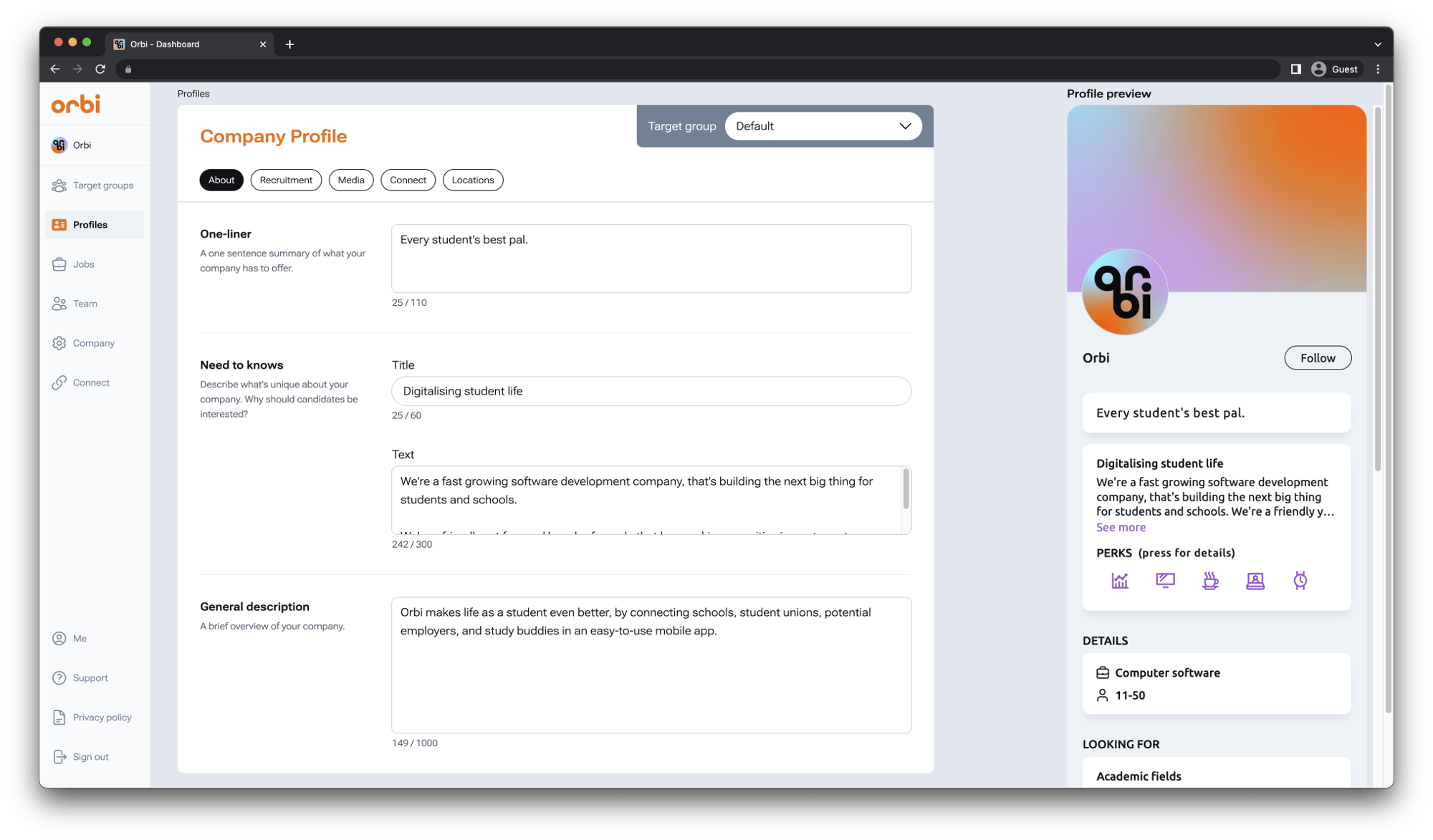 Show the world who you are
Create your profile and let everyone know what makes your company unique.
Start recruiting — Create and manage jobs
Create your job posts and get in-depth insights on the results.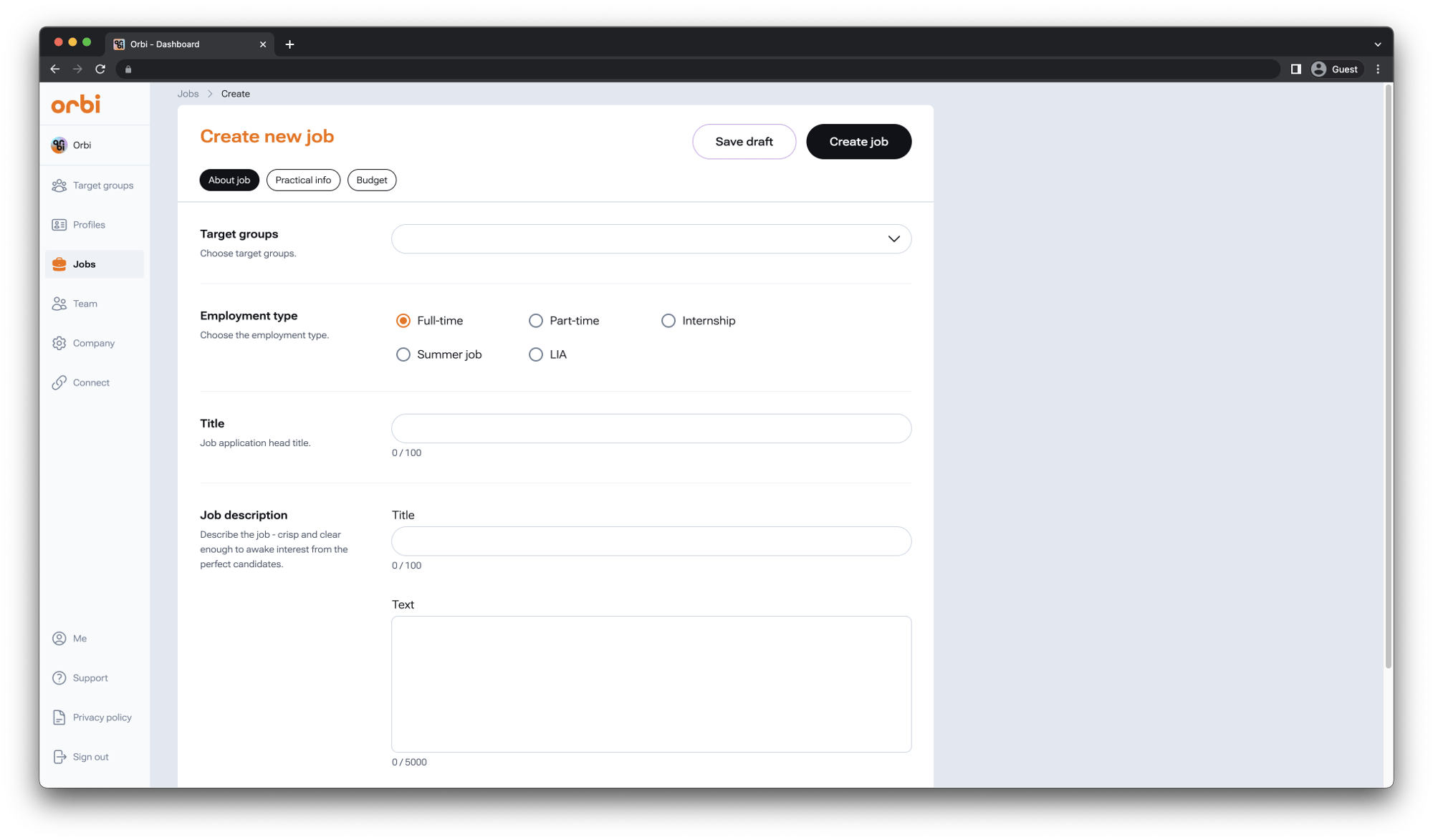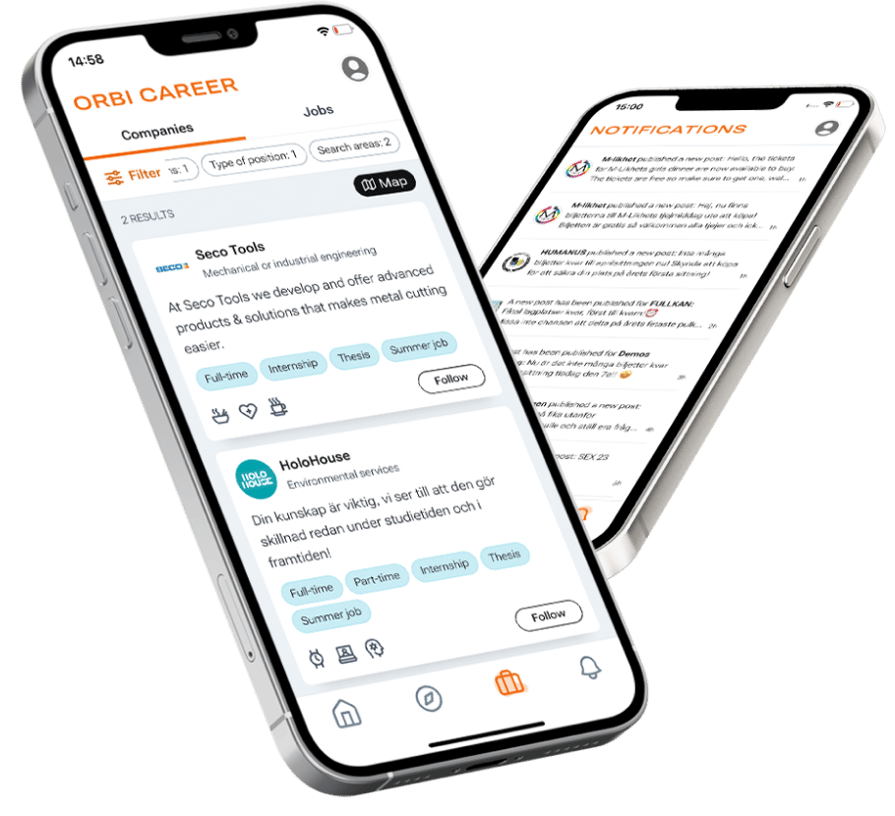 130,000+
Students connected.
300,000+
Job post interactions.
400,000+
Tickets sold for on-campus events.
10,000,000+
Impressions per month.
How it makes your life easier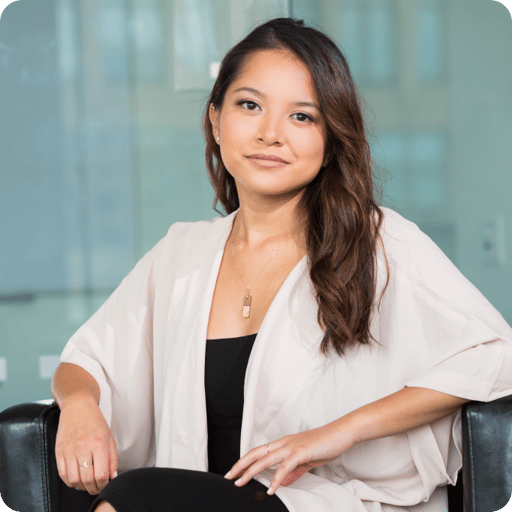 HR Director
Employer branding will become quantifiable - making sure you focus on the best activities in order to achieve your goals. Through Orbi insights, you can follow up on activities on campus, and be smart in where you prioritise.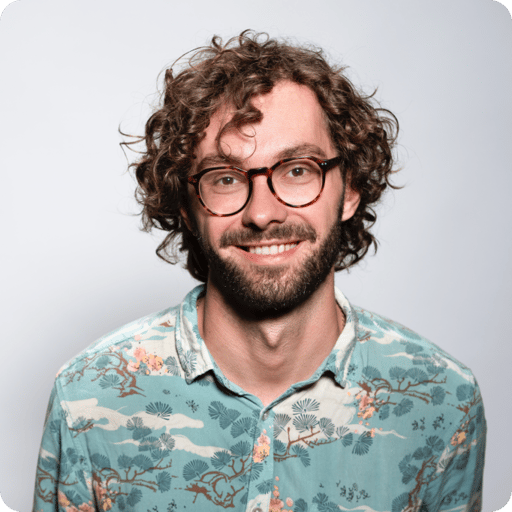 Employer Brand Specialist
Do everything, everywhere, all at once. Reach over 100,000 students with one tool. Be in top talents' pockets with a digital 24/7/365 exhibition of your employer brand - on all universities simultaneously.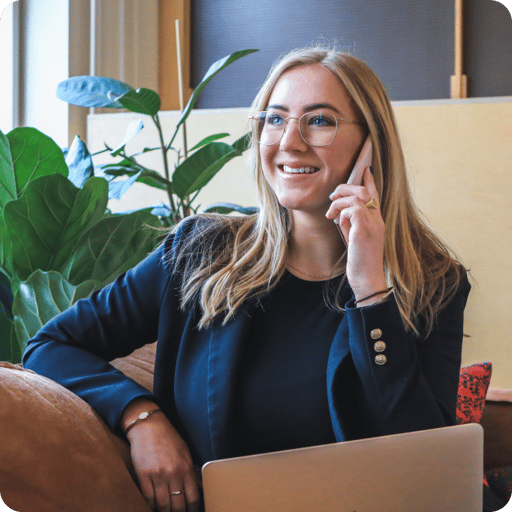 Talent Acquisition Manager
Pinpoint what you need. Why pay a premium price for candidate volume, when the administration is more resource-heavy than the recruitment process? We connect you with your targeted group of students.
Don't just take our word for it

NCC
"Orbi is a great complement to our physical presence at educational institutions, offering us the opportunity always to be close at hand to showcase what we provide to students both during and after their studies. We also have the ability to target the content to our audience, ensuring that our offerings align with the student's focus and that our Employer Brand remains strong."
Dennis Hedebrand
HR-Specialist Employer Branding

VECTOR
"The solution Orbi provides is more like a sniper rifle than a shotgun!"
Åsa Björnemark
President at VECTOR Sweden

CEJN
"If you as a company want to reach out to many students at the country's colleges and universities smoothly and easily, Orbi is the right partner for collaboration!"
Åsa Grehn
HR-Specialist

HemoCue
"At HemoCue, we are always looking to attract new talents who bring fresh perspectives and innovative ideas. In an effort to build long-term relationships and find our dream candidates, we joined the Orbi platform, giving us the perfect way of connecting with the next generation of talent. By essentially having an online exhibition of our brand in the Orbi app, we are able to build new and exciting connections with possible candidates all around Sweden."
Sara Starfelt
HR-Business Partner

NEKTAB
"The collaboration with Orbi makes it possible for NEKTAB to get in touch with students we otherwise wouldn't have reached. Orbis' platform helps us recruit tomorrow's power consultants."
Hanna Erixon
Communication & Sustainability officer